Like it or not, everyone is facing the heat of recession.  And it looks like recession is not going to go away soon. Small businesses are all the more vulnerable. The question is, can we to beat recession, and survive?  How to insulate our businesses, as far as we can, from the pains of slowdown?
I have been advising small and medium businesses for over a decade and a half now, and find that recession proneness of a business depends on various parameters like the business sector (agricultural produce vs capital goods), category of customers, e.g. B2B or retail, urban or rural, etc.
Depending on the inherent characteristics a business may be resilient or more vulnerable to recessions.
Even though the fundamental characteristics of a business cannot be altered, we feel that:
<![if !supportLists]>o <![endif]>a business's sensitivity to recessions can be measured and graded on a scale of 0-10 (susceptibility test);
<![if !supportLists]>o <![endif]>based on the sensitivity analysis, brainstorming and innovation, the business model can be slightly or significantly altered and make the business comparatively more recession proof on the drawing board (Recession Shield);
<![if !supportLists]>o <![endif]>the strategies and plans conceived on the drawing board can be implemented with energy and focus (The Charge) to actually survive and come out stronger from the recession.
Following figuratively describe the three points:
<![if !vml]><![endif]>

<![if !vml]><![endif]>

<![if !vml]><![endif]>

Susceptibility Test

Test

Recession Shield

Solution

Charge!

Execution
There can be many strategies.  For example, a capital goods manufacturer, who is operating in sector highly sensitive to recessions, can launch a free machine health-check campaign for his customers, which may result in enhanced spare parts sale and service income.  The manufacturer adds value to the customer in preventing a potential breakdown.  The business in the process has moved closer to the customer and aligned itself with the success of the customer.  This is a time tested strategy employed by automobile service companies.
Leveraging the existing customer relationships for more business by augmenting the product offering could be another strategy.  In fact one of our clients had implemented this successfully.  The client is engaged in design, manufacture and commissioning of cooling towers for power plants and process industries.  The business added chilling plants and water treatment segments to tap more business from the same customers, who otherwise go to third parties for these products.
Process
It is indeed a simple, three step process, as follows:
<![if !vml]>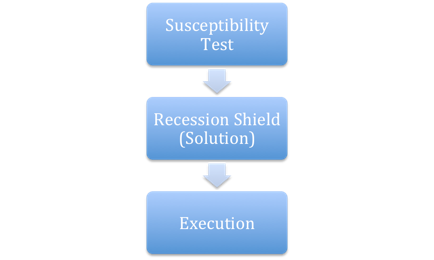 <![endif]>
Yes, recession is painful, but I think one can innovate and improve the chances of survival and beat the recession.