An independent Feeder is a complete power-line system from the power substation or powerhouse to the consumer directly.  On the independent feeder there is no other consumer.
<![if !vml]>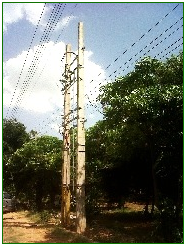 <![endif]>
On the contrary, a mixed feeder has many consumers connected on the same line.
There are many benefits of having an independent feeder. 
There are also many types of independent feeders with their own advantages and disadvantages. 
In this section of our website you will learn all about independent feeders.
We provide comprehensive, single-window services in the power sector.  Please contact us, we will be glad assist you in all your requirements.
<![if !vml]>

<![endif]>
Electricity consumers with a load of 1.0 MW and above can make significant savings in power and fuel costs, by purchasing power in the open markets.
Energy Efficiency
<![if !vml]>
<![endif]>
 Every unit saved is two units purchased.
Every industry and large commercial consumer has the potential to reduce total demand and save at least 10-15% from the annual power bill.
<![if !vml]>

<![endif]>
Power tariffs and bills are rising every day.  Industrial and commercial establishments can benefit …